4 hikes and walks around Australia that finish at a pub (you're welcome)

So, you want to head out into the great Australian wilderness, see some breathtaking landscape, spot some wildlife and get your steps up. But, you also wouldn't mind treating yourself to a cold beer or spritz and a parma and chips at the end of your adventure – after all, exploring is hungry work! We've done the groundwork and found some beautiful walks/hikes that just so happen to be in close vicinity to a pub or similar – so what are you waiting for? Let's get out there.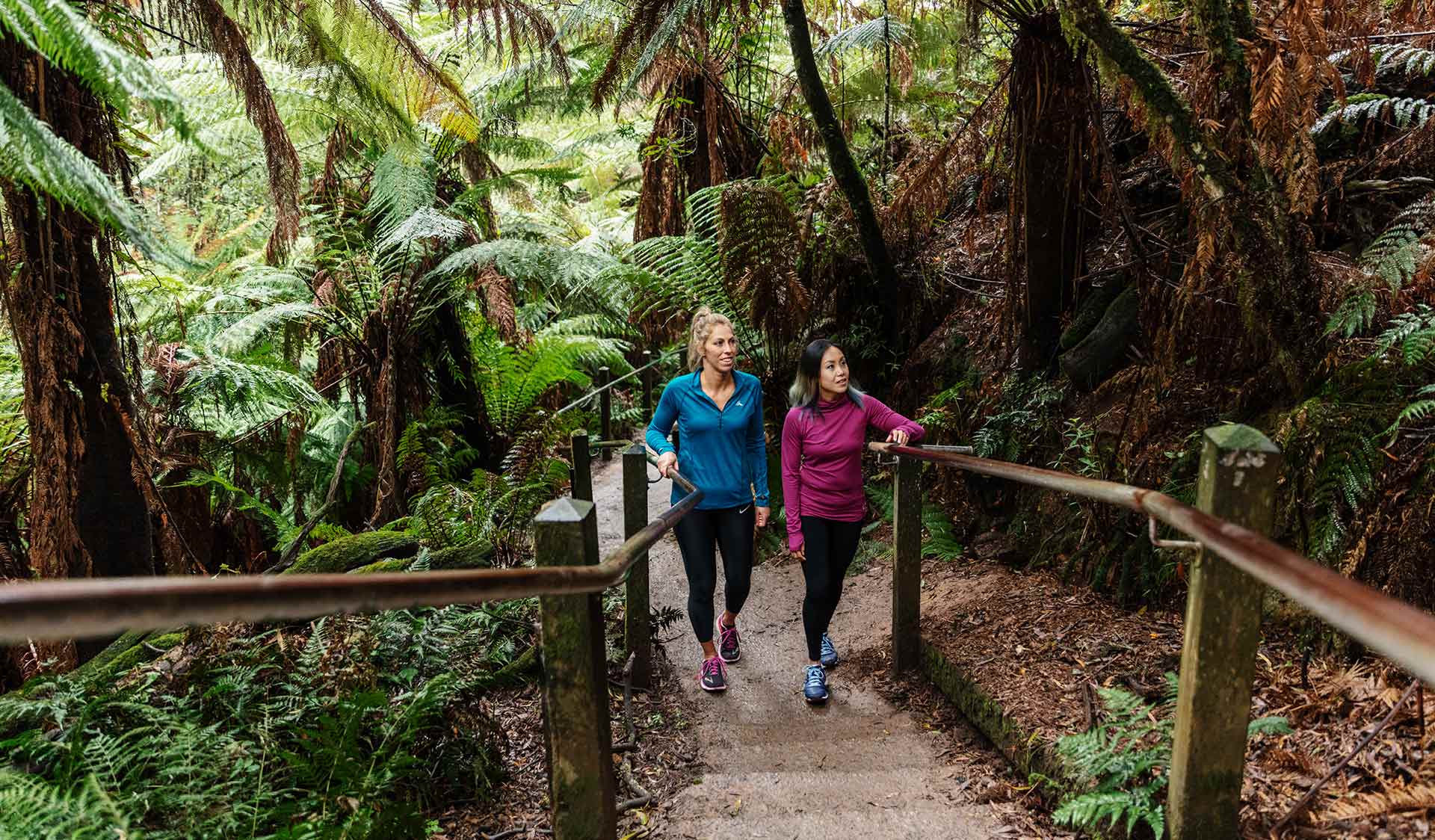 The hike: Dandenong Ranges Circuit, VIC
Less than an hour from Melbourne CBD, the Dandenong Ranges are a place of beauty and inexplicable calm. Rolling hills and valleys covered in thick temperate rainforests greet you as you escape the chaos of the city and make the climb up to Mt. Dandenong, which is 633 metres above sea level. Above you the mountain ash tower, the ferny undergrowth is luscious and green and the air is crisp and refreshing. The walk we've chosen to explore this beautiful part of the world is the Dandenong Ranges Circuit: just under 16 kilometres in length, this hike will take you approximately 4.5 hours to complete depending on your pace and will lead you through parts of Dandenong Ranges National Park, past Olinda Falls, Mount Dandenong and R.J. Hamer Arboretum. Along the way, expect breathtaking viewpoints overlooking Melbourne, picturesque waterfalls, plenty of wildlife and some of the freshest air you've ever had the pleasure of breathing.


The pub: Pie In The Sky
Now, we know we said 'pubs' in the headline of this story, but our pick for the Dandenong Ranges Circuit isn't a pub – it is, however, an institution in the hills and absolutely worth a visit. Since 1993 Pie In The Sky has been proudly hand-crafting just about every pie you could possibly crave while you walk the Dandenong Ranges circuit. This spot is the perfect pitstop in Olinda and not only offers all the classics (think Aussie plain beef, pepper steak and beef and mushroom) but other tasty numbers like korma chicken, tandoori chicken and spinach, and pumpkin and sweet potato). Sweet tooth? Pie In The Sky isn't afraid to sling a few scones your way (with a generous dollop of jam and cream on top, of course).

43 Olinda-Monbulk Rd, Olinda VIC 3788
Monday to Thursday, 10am – 4:30pm, Friday to Sunday, 10am – 5pm
The hike: Rose Bay to Watson's Bay Walk, NSW
Ok Sydney, now you're really showing off with this walking track. Starting in Rose Bay, a suburb perched on the edge of Sydney Harbour, this 8-kilometre (one way) path will not disappoint on the picturesque scenery front. Along the way, you'll pass through Hermitage Foreshaw Walk (think hidden beaches and uninterrupted views of the Harbour), Shark Beach (a nice spot to stop for a dip, sans actual sharks) and the Parsley Bay suspension bridge to name a few. Although it's quite a long walk, if you stop here and there you'll really be able to soak up the sights it has to offer – it's a reasonably flat track, too. If secluded beaches, Harbour views and parks are on your list of things to see and experience and then this walk is for you, trust us!   


The pub: Watson's Bay Hotel
Watson's Bay Hotel is the full package: panoramic views of the bay, a buzzing beach club, on-site accommodation, a memorable wedding venue, fresh seafood platters and refreshing spritzes are just some of the things you can expect. Heck, Watson's Bay Hotel has even won the award for Sydney's Most Instagramable Venue! We didn't know that was a thing, but we get it. Do yourself a favour and time your walk from Rose Way to Watson's Bay so you can swing in here late on a Saturday afternoon when the drinks and flowing and the sun is setting over the bay – magic!  
1 Military Road (corner of Marine Parade) Watsons Bay Sydney, NSW 2030
Monday to Friday, 11am – 8:30pm, Saturday and Sunday 11am – 10pm

The hike: Balgowan to Moonta Bay, SA
Ok serious hikers, this one's for you. This trek is a section of the 'Walk the Torke' trail which is a long-distance walking track around 500 kilometres in length between Port Wakefield and Moonta Bayon on the stunning Yorke Peninsula (Narungga Country) in South Australia. This particular route is just over 41 kilometres and takes roughly 10 hours to walk – if you're not up for a full day of hiking then stop off at Cape Elizabeth for an overnight camp if you fancy. Along the way, you'll enjoy the rugged coastline and pebbled beaches with not a soul around, except for the odd dolphin out near the reef if you time it right. This is one of those walks that, although challenging at times, makes you feel like you're on the edge of the earth and constantly in awe of Australia's spectacular landscape.


The pub: Cornwall Hotel
A classic pub in a small beachside town, the Cornwall Hotel (or the Corny as the locals call it) serves up all the classics with the warm welcome you need after a long hike. It celebrated its 150th birthday in 2019, making it the oldest and most historic building in Moonta. There's accommodation on-site if you need a good night's rest after your adventures, plus plenty of pub menu classics and a Happy Hour (hopefully just in time for you to wrap up your hike).   
20 Ryan St, Moonta SA 5558
Monday to Sunday, 10am - 12am (2am on Friday and Saturday)
https://www.facebook.com/moontacornwallhotel/ 
The hike: Cascade Walking Track
Full disclosure, we may have picked the pub and planned the walk around it here – but can you blame us? The Cascade Brewery is not only a Tasmanian (and Australian) icon but also happens to be located in idyllic settings not far from Hobart CBD, making it the perfect day trip location. This walk will take you behind the brewery through the foothills of Mount Wellington in Wellington Park past babbling brooks and dense forest. If you're driving from Hobart, park your car near the brewery's silos and head off on your way – the walk is 2.4 kilometres and should take you roughly an hour to complete. This track is one of many that link up to provide a walk from Hobart's waterfront to the pinnacle of Mount Wellington, so if you're feeling adventurous or have more time up your sleeve you could set off for a longer hike from here. You could also try the walking/bike trail from Hobart up to the brewery as an option too.


The pub: Cascade Brewery
Did you know Cascade Brewery is Australia's oldest brewery? Since 1842 it's been producing a large offering of beer and ciders. If you want to learn more about the beer you enjoy at the end of your walk then book one of the brewery's many tours where you can taste a few of their creations, see the production process or learn about the history of the brewery itself. While you enjoy a glass of Cascade Lager check out the food menu which has been specifically crafted to match the beers and ciders on tap. On a sunny day, we recommend snagging a table outside in the garden while you enjoy the local produce with a cold beer in hand. You might even spot the resident rooster roaming around the property, too.

140 Cascade Rd, South Hobart TAS 7004
Monday to Sunday, 11am – 5pm (9pm Wednesday, Friday and Saturday)
https://www.instagram.com/cascade.brewing/?hl=en